Resources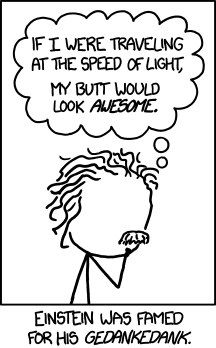 general
gravity probe b
history

On the Electrodynamics of Moving Bodies, Albert Einstein, 30 June 1905
English translation of "Zur Elektrodynamik bewegter Körper," Annalen der Physik. Vol. 17: 891 (1905).
Einstein, Albert. "Brief Outline of the Development of the Theory of Relativity." Nature 106 (1921): 782–784.
Relativity : the Special and General Theory by Albert Einstein, Project Gutenberg
Galileo and Einstein, Michael Fowler, University of Virginia
Special Relativity, MacTutor History of Mathematics archive
Year of Physics: Relativity Revisited, Nature, 2005

time dilation
miscellaneous
video on demand

The Mechanical Universe and Beyond

The Michelson-Morley Experiment, In 1887, an exquisitely designed measurement of the earth's motion through the ether results in the most brilliant failure in scientific history.
The Lorentz Transformation, If the speed of light is to be the same for all observers, then the length of a meter stick, or the rate of a ticking clock, depends on who measures it.
Velocity and Time, Einstein is motivated to perfect the central ideas of physics, resulting in a new understanding of the meaning of space and time.